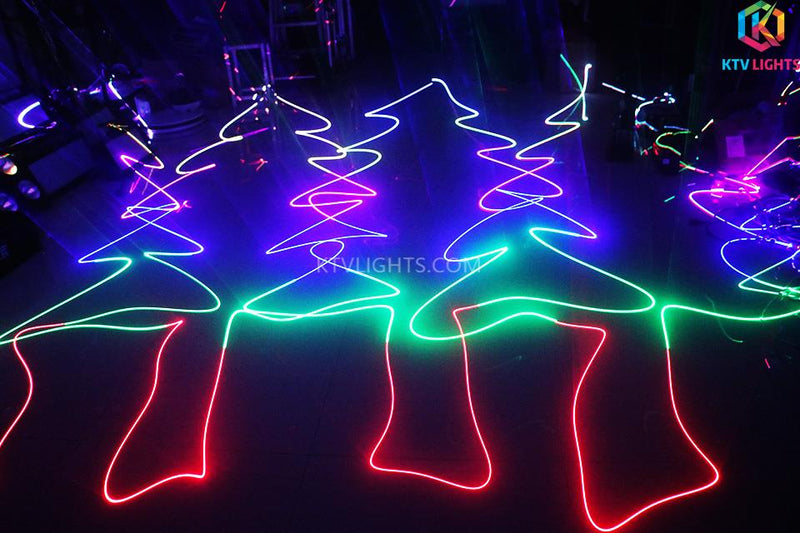 Full color animation laser light-A1
Product specifications:
Name: full color animation light
Power supply: AC110~240,50/60Hz
Control channels: 6/34 DMX channels
Control method: voice control/stroboscopic/DMX/remote control
Scanning system: galvanometer scanning
Product power: 30W
Laser power: 500mw / 1w
Unit weight: 1.45kg
Inner box size: 23*19*17cm
ABOUT SAFETY CERTIFICATION
ABOUT KTV LASER
KTV Stage Lighting is an art form onstage. It is the one element of the production that ties everything visually together. Without it we simply can not see, with it we can create environments, motion, pacing, concentration and enhance emotion.
Visual excitement, environmental surroundings can be the most important element to a room. Imagine having to turn a cafeteria or a gymnasium into a club. To do it via scenery would cost an absolute fortune, but doing it with lighting, can be very cost effective. With lighting you don't have to limit yourself to one visual idea. Your only limit is your imagination and creativity
Here At KTV, We Stand By Our Products 100% With A 12-Month Warranty. A Happy Purchasing Experience Is Our #1 Priority And We Will Happily Send A Product Replacement If Any Issues Arise.
We provide free shipping worldwide (some areas need to add remote surcharges, if you have any questions, please contact our online customer service)

Transportation time:
US: 8-10 working days
Europe: 10-12 business days
Other countries: 15 working days
Priority insured shipping
$4.99 (Optional) Priority Shipping Packages
Shipping Confirmation
Once the purchased laser system is produced, we will contact you with shipping and tracking information for all applications. This information will be emailed to the email address you provided when ordering.
Sign for the parcel
1.Please provide us with the correct delivery information and ensure that someone is present at the delivery location when the package arrives. We will mail you a tracking number (please note we will receive it by noon the day after shipment) so you can arrange for the recipient to arrive. After receiving the package, it is recommended that you check the box with the courier driver and pay attention to whether the package is damaged. If there is any damage, please reject the package or contact us as soon as possible.
2.ktvlights is not responsible for package delays due to incorrect shipping information such as wrong addresses or missing phone numbers